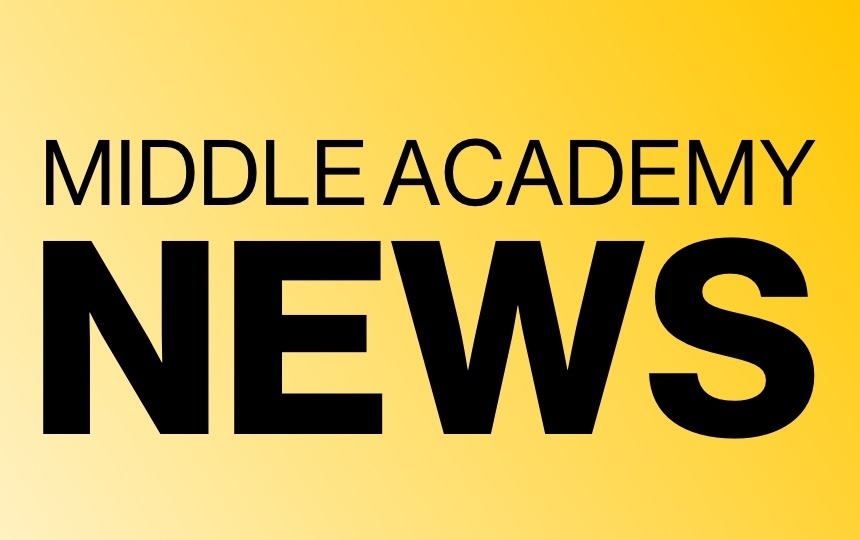 Middle Academy News 5/20/2020
Darlene Moore
Wednesday, May 20, 2020
Middle School Fall Sports Award Winners
On behalf of our Athletic Department, we would like to thank all Middle School athletes, coaches, and parents on a very successful season. During this time we would like to recognize all our Fall athletes and award winners. We are so proud of all your hard work and dedication that you put into your perspective teams.
Girls Cross Country
Roster: Rori Bailey, Michelle Duffy, Jamie Fowler, Addison Hurt, Elizabeth Kruder, Emma McCloud, Sarah McCloud, Vanessa Milliam, Natalia Ryba, Abigail Sullivan, Kelli Toney, Nicole Torres, Gracie Vaughan, Ava Walker.
MVP: Gracie Vaughan
Most Improved: Kelli Toney
Coaches Award: Michelle Duffy
Boys Cross Country
Roster: Ben Aston, Jack Brooks, Carson Creech, Weston Dixon, Jordan Driver, Jacob Fowler, Ryan Hatlerman, Mason Harris, Sean Hook, Tanner Knight, Aidan Mantych, Rayne Quintana, Tanner Robertson, Owen Schmidt, Logan Singleton, Hunter Smith, Greyson Speckhart.
MVP: Owen Schmidt
Most Improved: Jacob Fowler
Coaches Award: Hunter Smith
Boys Soccer
Roster: Carson Batchelor, Anderson Bock, Will Connolly, Luca DeJoseph, Kane Ferrell, Jordan Fuentes, Ethan Gelo, Cody Granger, Colt Hicks, Angelo Husted, Jaden Jones, Ryan Pitman, Austin Ray, Jaxon Ryan, Mason Stancil, Kyle Toney.
MVP: Austin Ray
Offensive Player of the Year: Jordan Fuentes
Coaches Award: Jaxon Ryan
Most Improved: Will Connolly
Volleyball
Roster: Lauren Brothers, Peyton Connolly, Hailey Cowan, Gracie Eddins, Riley Godwin, Sam Hugel, Caroline Loomis, Mallie Pearce, Megan Poole, Skylar Prosser, Grace Ray, Peyton Robertson, Rylee Sharpe, Hannah Snead.
MVP: Gracie Eddins
Best All Around: Grace Ray
Coaches Award: Mallie Pearce
Most Improved: Hannah Snead
Awards Announcement Schedule
Monday 5/18: HS Fall
Tuesday: 5/19 MS Fall
Wednesday 5/20: HS Winter
Thursday 5/21: MS Winter
Friday 5/22: Athlete(s) and Coach of the Year, Triple Sport Athlete
Happy Birthday to these 5th Graders this week/over the summer:
Jayden Thomas- May 15th
Cassie Bass- May 15th
Olivia Thompson-May 15th
Brayden Wells- May 17th
Dylan Royster- May 19th
Nathan Leonard- May 22nd
Evan Mason- May 26th
Paige Crudup- May 27th
Kyla Boone- May 28th
Leila Gonzalez- June 1st
Luke Glover- June 5th
Braydon Gaddy- June 7th
Cameron Ray- June 12th
Max Swaim- June 15th
Autumn Perry- June 18th
Hannah Miller- June 22nd
Chase Jordan- June 30th
The following middle academy students competed in the FBLA regional competition in December and the online virtual State Competition this year! Here are 2020 State Winners for EWA!
Hunter Smith - 2nd place in the state Business Computer Technology!
Skylar Carroll - 3rd place in the state Digital Citizenship!
Grayson Warren - 3rd place in the state Business Etiquette!
Top 10 finishers in NC:
Miranda McCullough - Parliamentary procedure
Katelyn Nguyen - Business Communication
Niko Smith - Business Concepts
Top 25 finisher in NC:
Sebastian Lopez-Chavarria - Elevator speech
We'll be conducting our Doctor Minecraft class in which kids have a fun time learning about germs/pathogens and explore various drug delivery approaches while creating projects/games in Minecraft. Kids love Minecraft, so let's get them learning while playing! It will be conducted every Saturday online on 5/16-6/6 from 10-11AM EST. Register here.
Shelby Jones
STEM Lead Coach
STEM For Kids, LLC
Watch UNC-TV Science Now Story
Read International Franchising Association Magazine Story
sjones@stemforkids.net
(336)560-7836
Student Support Team: As our time apart lengthens and family stressors increase, we need to remember that the school does have supports in place for you and your family. Our student support team has been working tirelessly behind the scenes to support kids. Please see the resources and contact information they have in place.
Please remember that our Student Support Team is in place to help provide care and support during this time. They have information about resources and can support your child's/families SEL.