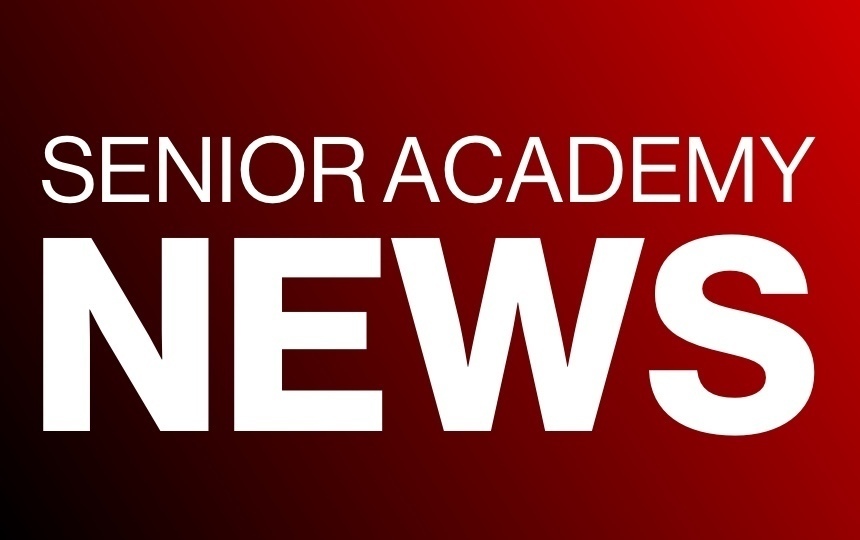 Senior Academy News 2/22/2021
Dawn Ray
Monday, February 22, 2021
Senior Academy Announcements
February 22, 2021
Good Morning Senior Academy.
HS SCHOOL SCHEDULE:
Week of February 22 - Grades 9 & 12 being F2F in their cohorts.
Monday 2/22 - Cohort A
Tuesday 2/23–ACT: All Juniors will come to campus F2F to take the ACT. This will be an asynchronous day for all other students.
Wednesday 2/24 - Cohort B
Thursday 2/25 - Cohort B
Friday 2/26 - Full Remote Day
Class

Monday-Tuesday

Cohort A

Wednesday-Thursday

Cohort B

Friday

All Remote

1st

8:15am - 9:45am

8:15am - 9:45am

9:00am - 9:45am

2nd

9:55am - 11:25am

9:55am - 11:25am

10:00am - 10:45am

Lunch

11:25am - 11:55am

11:25am - 11:55am

No lunch break

3rd

12:05pm - 1:35pm

12:05pm - 1:35pm

11:00am - 11:45am

4th

1:45pm - 3:15pm

1:45pm - 3:15pm

12:00pm - 12:45pm
COUNSELOR'S CORNER: - Notes from Mrs. Naftel…
Need an appointment? Please click on the link! https://snaftel.youcanbook.me
IMPORTANT DATES:
Week of the 22nd - We will begin our Hybrid Learning
Drivers Ed. Registration Form DUE February 28th.
SENIORS:
Mrs. Coward needs a baby picture, a casual picture (preferably closer up), and an appropriate quote for the yearbook. She needs these ASAP! Please email to dcoward@eastwakeacademy.org.
This is a reminder that we need pictures for our graduation slideshow! Please email photos (preferably groups of classmates) to ewaseniors@eastwakeacademy.org so we can begin the process of getting the slideshow together. The slideshow can only be ten minutes long, and we want all of our seniors represented. If you do not send us pictures, we will not have a full representation of this wonderful senior class, so dig out those old photo albums and get to scanning! We would love photos to span from Kindergarten through this year.
HS PARENTS/GUARDIANS:
Parents Donations Needed: Clorox wipes, Clorox wipes lemon scented, individually pre-wrapped plastic ware, bottled water, emergency lunches (tuna kits, canned options (spaghetti), etc.)
HS Parking tags and EWA carpool tags:
If your f2f student is planning to park on campus and they have purchased a carpool tag, Yes, tags and family carpool tags are available and will be handed out by their HR/1st period teacher starting TODAY. (9-12 graders – Monday and Wednesday, 11th graders – Tuesday after ACT testing) (10th graders – Monday and Wednesday– week of March1st).
Starting next week, morning student drivers will be directed where to go once they enter the campus through Industrial Dr. and be asked the Health Screening questions and temperature checked before they leave their cars.
If your student driver has not purchased a tag and filled out the car registration contact Mrs. Ray at dray@eastwakeacademy.org. Car tags will be required to park on campus by March 4th 2021.
Records Request for Students: We understand that some families will explore other educational opportunities for their child, and we support that right. Please let us know what you may need for your exploration, and we will help. But be advised: (By Law) if East Wake Academy receives a formal record request from another school for your child, that child will be withdrawn from East Wake Academy for the following school year (2021 - 2022). East Wake Academy's receipt of the request is final and out of our hands legally. Please be in contact with Mrs. Campbell so she can help you. Mrs. Campbell can be reached at kcampbell@eastwakeacademy.org.
SPORTS:
Monday 2/22
No events
Tuesday 2/23
No events
Wednesday 2/24
Men's Soccer @ TMSA (Wake Med), 5:00 pm start/ Dismissal 3:00 pm
Thursday 2/25
No events
Friday 2/26
Men's Soccer vs. Henderson Collegiate (Wendell Park). 4:00 pm start/ Dismissal 2:30 pm
"Attention any 9th-12th grade athlete who is interested in trying out for High School Men's Golf, Women's Golf, Women's Soccer, or Softball: Please make sure you have a completed and up to date tryout packet ready to turn in by March 1st. Visit our athletic website (goewaeagles.org) and click the files/link tab to find the full tryout packet. Scan your completed packet and email to Coach Eason (ceason@eastwakeacademy.org) or bring with you to your first tryout date."
Tryout Information
Men's Golf
Location: Zebulon CC
Date: March 1st and 2nd
Time: 4:00-5:30 pm
Women's Golf
Location: Zebulon CC
Date: March 3rd and 4th
Time: 4:00-5:30 pm
Women's Soccer
Location: Bailey-Middlesex Park
Date: March 1st and 2nd
Time: 4:00-5:30 pm
Softball
Location: Pilot Lions Park
Date: March 1st and 2nd
Time: 4:00-5:30 pm
"Don't let failure go to your heart, and don't let success go to your head." ~ Will Smith