Hello EWA families, ZPD has informed us we are able to cancel the Code Yellow alert. We are now back on our regular schedule for the day. Again, thank you for your support of our students, teachers and staff during these challenging moments.
Dear EWA families. We have been in constant contact with ZPD. While there has been no specific threat to EWA, we will continue to stay in Code Yellow until ZPD feels the situation is stable. All our exterior doors are locked so please do not come to campus or expect your student to leave campus until the Code Yellow is lifted. No food deliveries will be allowed however we are preparing to ensure all students have food for lunch. The safety of our students is our top priority and we appreciate your continued understanding and support during this situation.

Dear EWA Families EWA is on a Code Yellow as a precaution. We received a report Zebulon Middle School is on Code Red. There has been no specific threat to EWA, however the safety of our students is our first priority. Code Yellow does not allow our exterior doors to open so please do not come to the campus until the lockdown has been lifted.

Join us in celebrating 9 amazing SENIORS tonight!! Varsity Women play at 6:00 and Varsity Men at 7:30. Senior recognition for players and cheerleaders will be right after the girls game!! 🏀📣🦅🏀📣🦅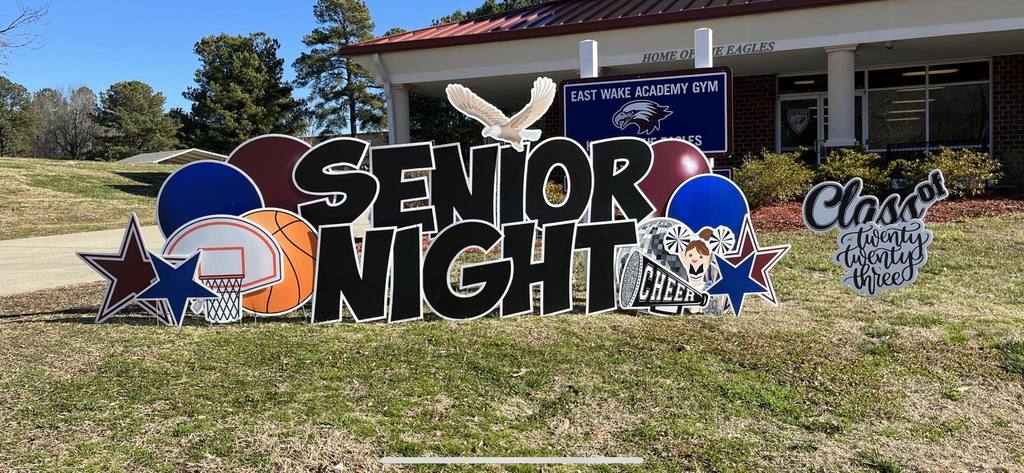 Save the Date - Wednesday 2/15 K-11 Spring Dress Down Pictures All students will be photographed - there is not a make up/retake day Parents will receive a proof sheet with a code a few weeks after picture day and all orders will be done online

Now accepting applications for the 2023 - 2024 school year! You do not have to be present for the lottery!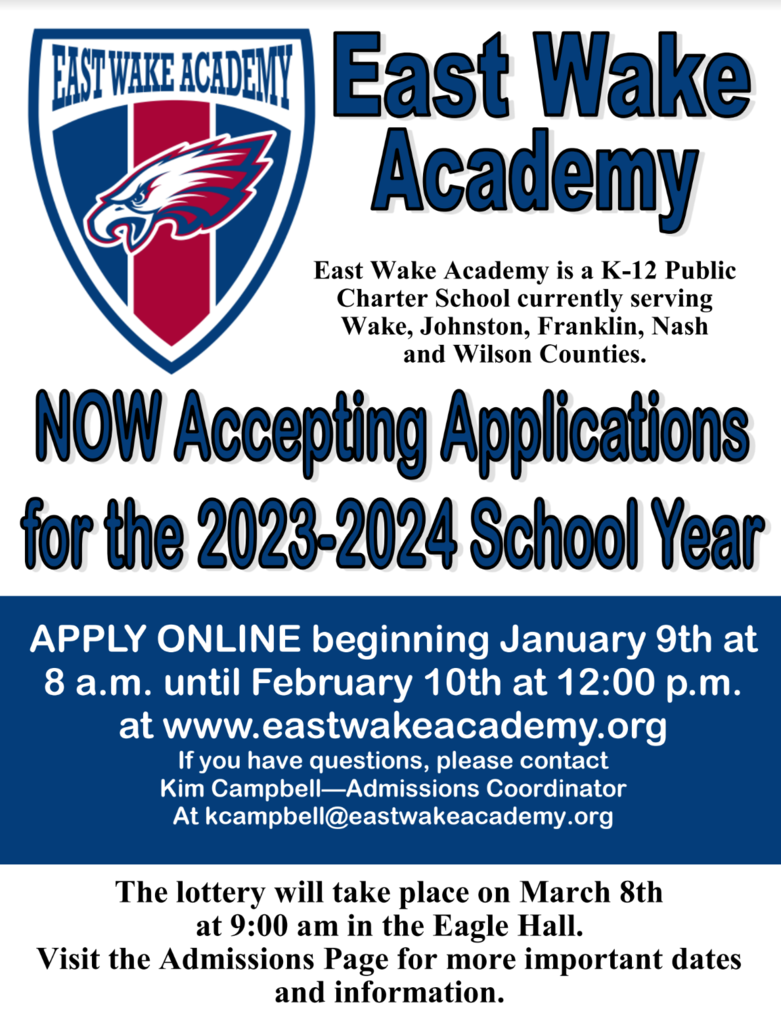 No school Monday, January 16th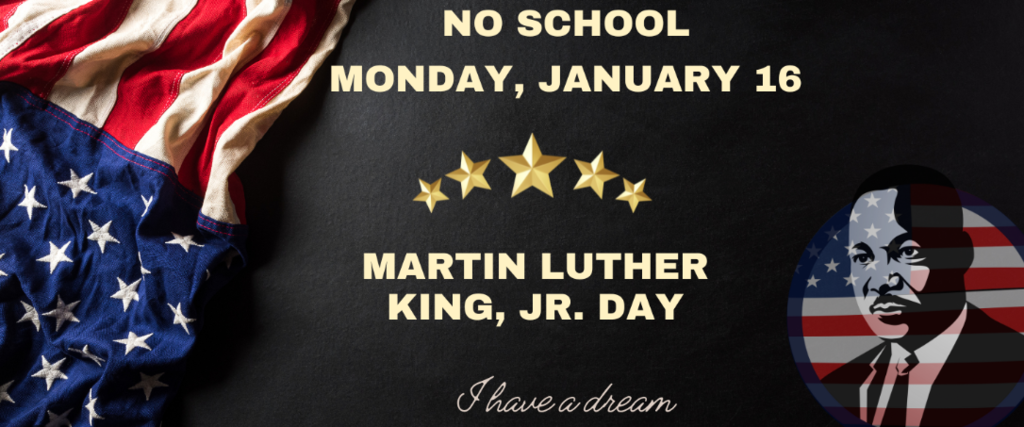 Parents, The EWA Athletic Boosters would like to invite K4 families to attend our 1st Annual Family Valentine's Day Dance. All money raised will go toward the remaining balance of our new Volleyball net system. Family Valentine's Day Dance When- Friday, February 3rd (6:30-8:30) Cost- $10 per person (not to exceed $40 per family) Music, dancing, photo booth, and light refreshments provided Register Here *This is a family dance and all students must be accompanied by a parent/adult. *This is a PRESALE event and tickets are limited to first come first serve. Order deadline- 1/27/23 Reach out to Crystal Dixon with any questions (
cdixon@eastwakeacademy.org
)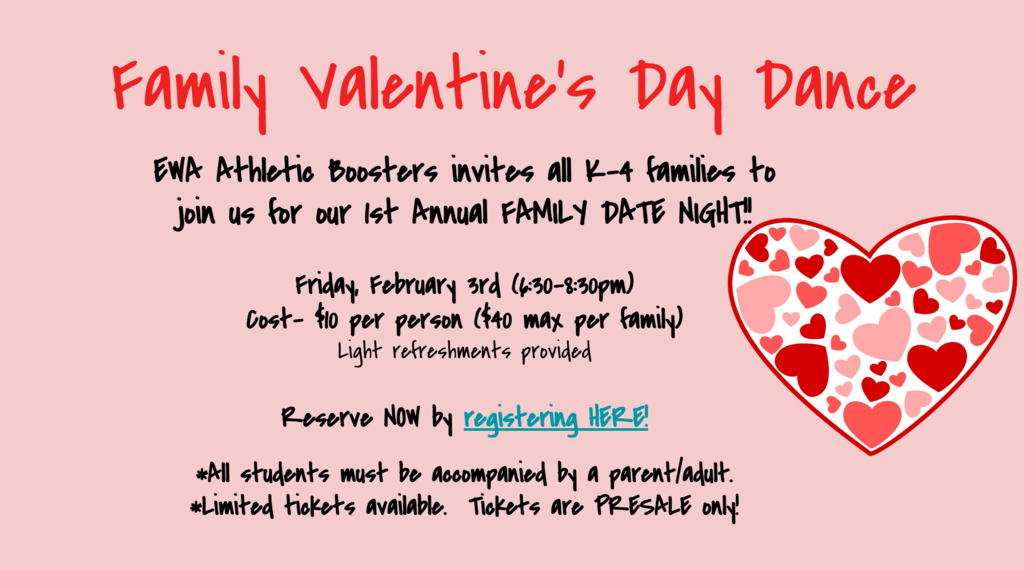 Now accepting applications for the 2023 - 2024 school year! You do not have to be present for the lottery!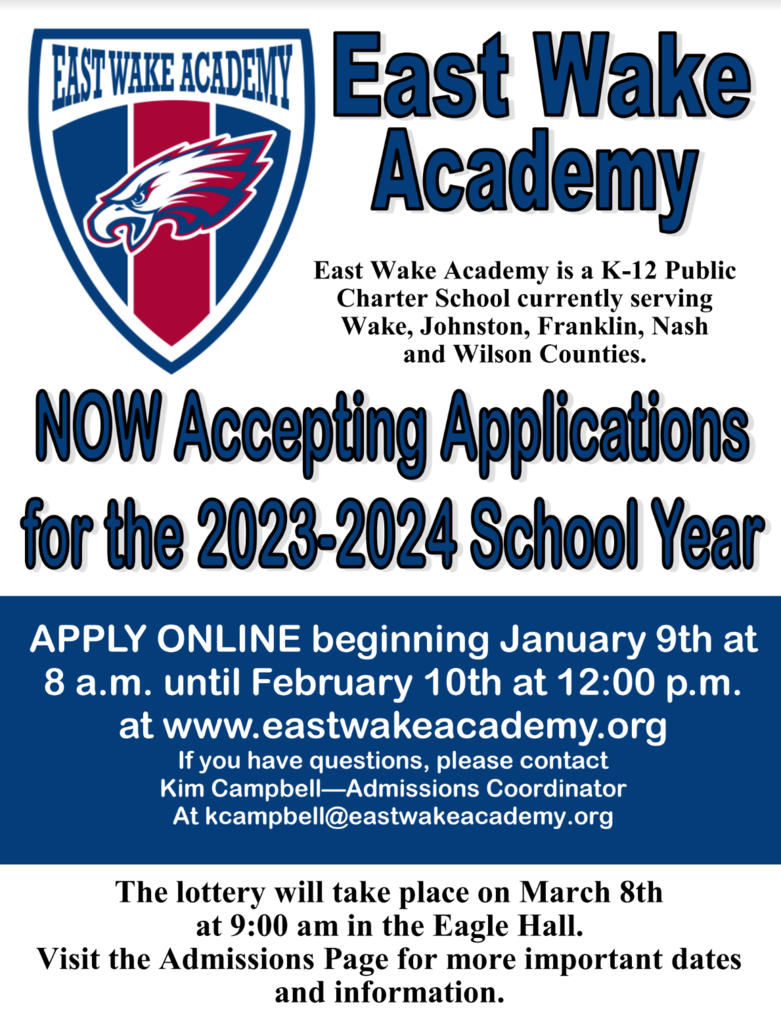 See important information below about enrollment for the 23-24 school year.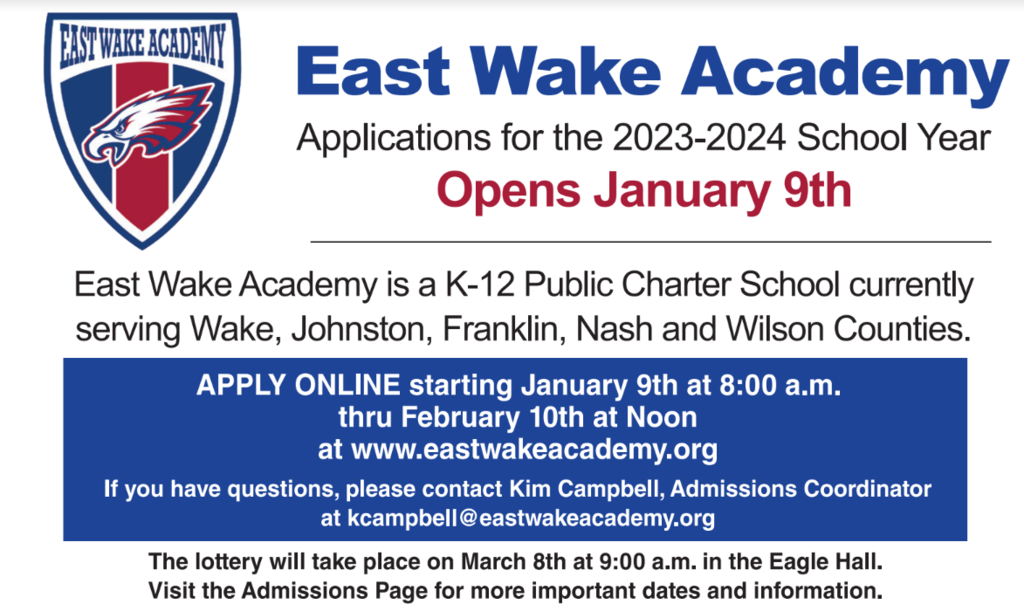 We had a special delivery this week from retired Kindergarten teacher- Mrs. Lizzie McInerney! Mrs. McInerney, now author of 2 children's books, came by to deliver one of her books to Ms. Heuts. Ms. Heuts once was a kindergartner in Mrs. McInerney's kindergarten class! Thank you for sharing your books with our students!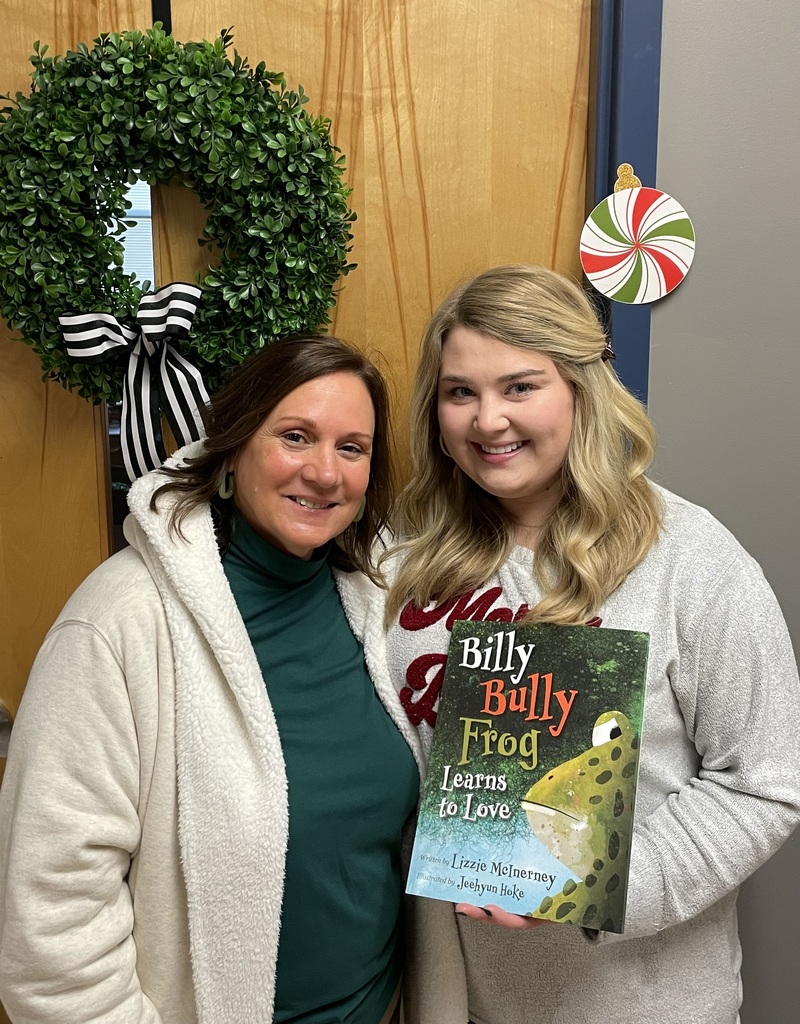 Our K-4 Holiday Concert was AMAZING! Thank you to all the students that came out to participate! A special thank you to Ms. Collins for all her hard work making it such a success! #EWA25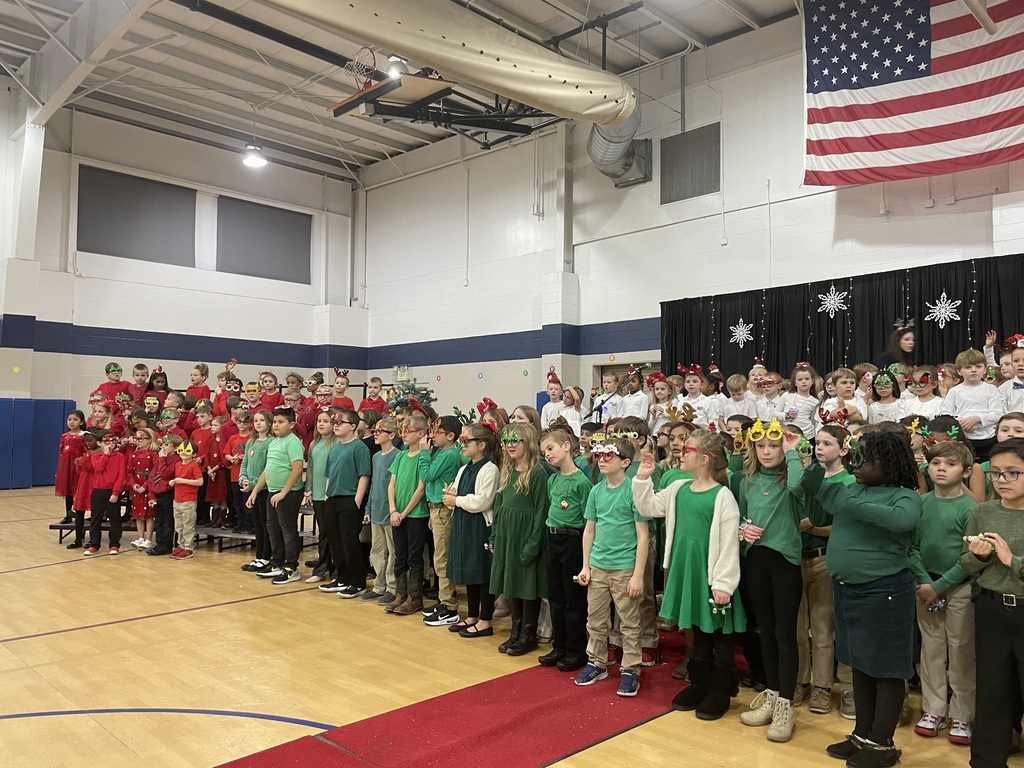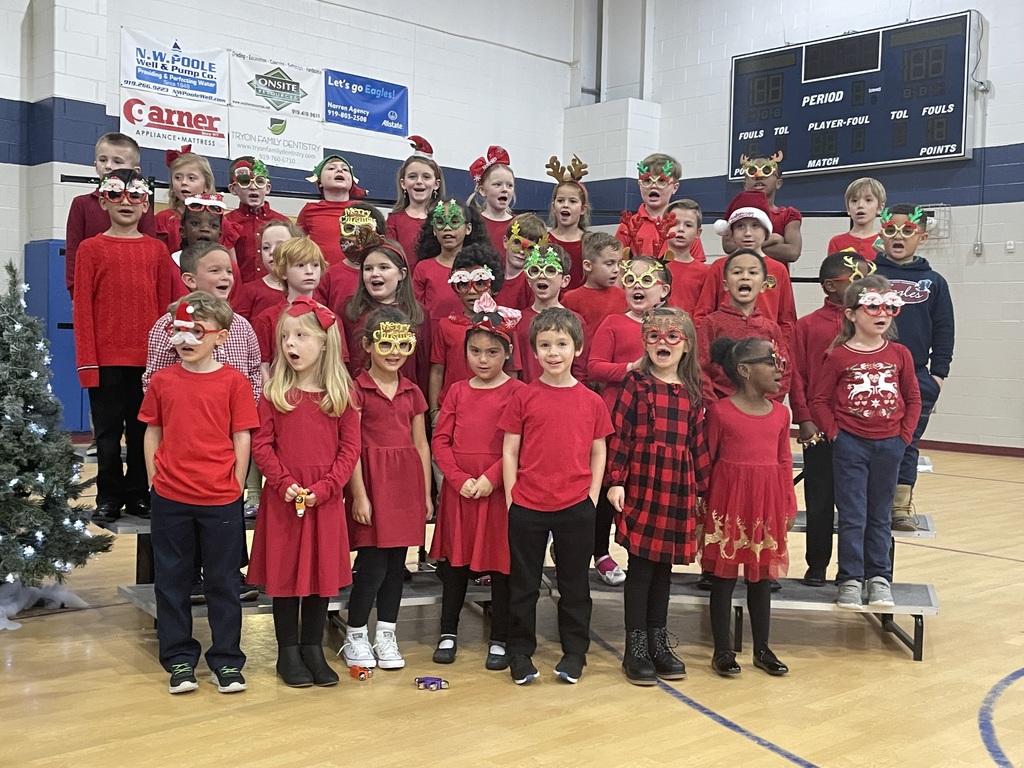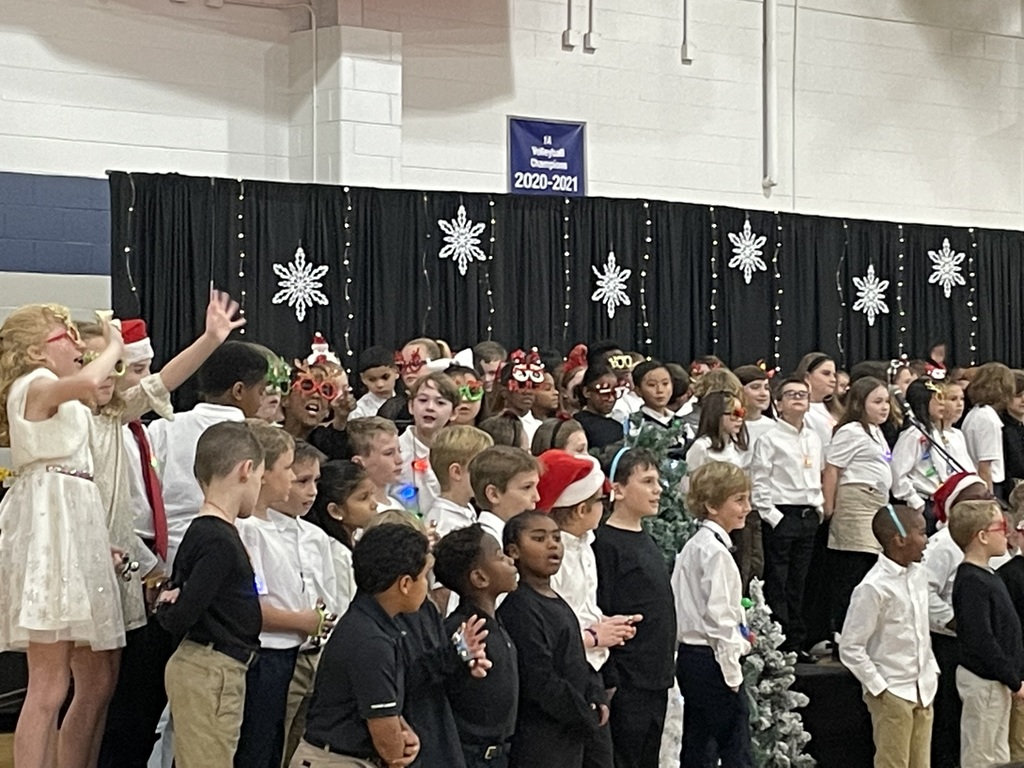 A huge THANK YOU to Carolina Yard Barns for such a generous donation! We are thrilled to have a new storage building that they donated! We appreciate your continued support of East Wake Academy! #EWA25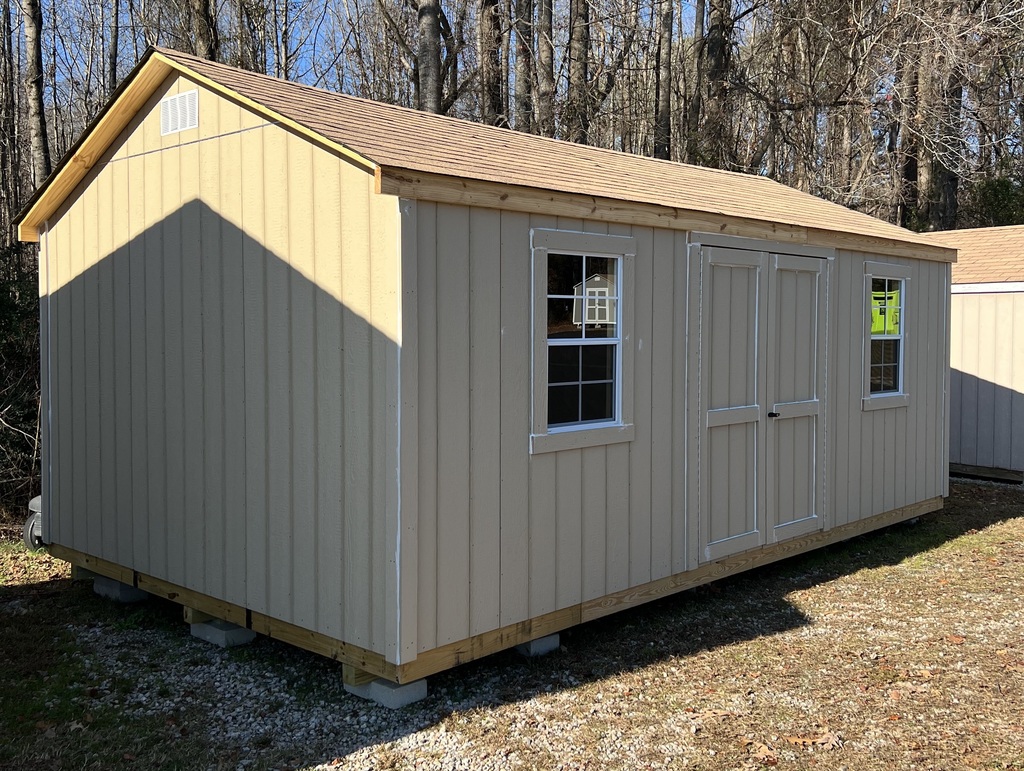 THANK YOU so much to everyone that supported our Giving Tree this year! Once again our staff and families have showed up in a big way! If you were not able to drop off your donation Friday, we will still be accepting donations tomorrow as we organize for distribution. #EWA25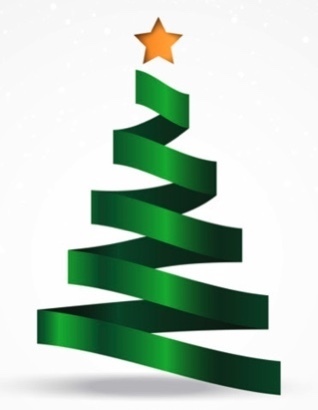 EWA FBLA attended the regional conference Saturday at Southeast High School.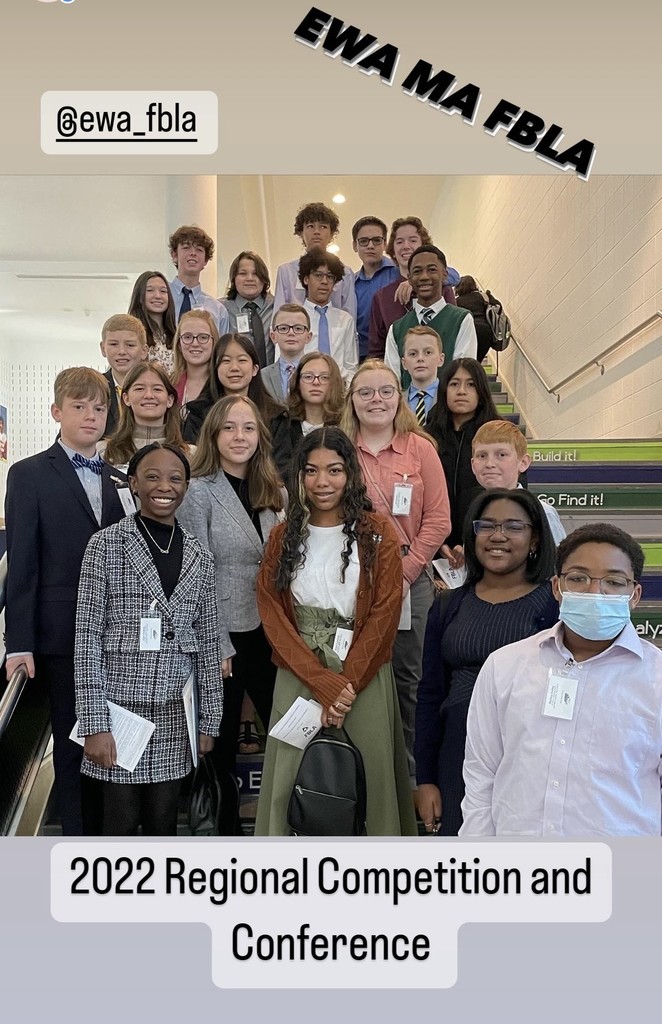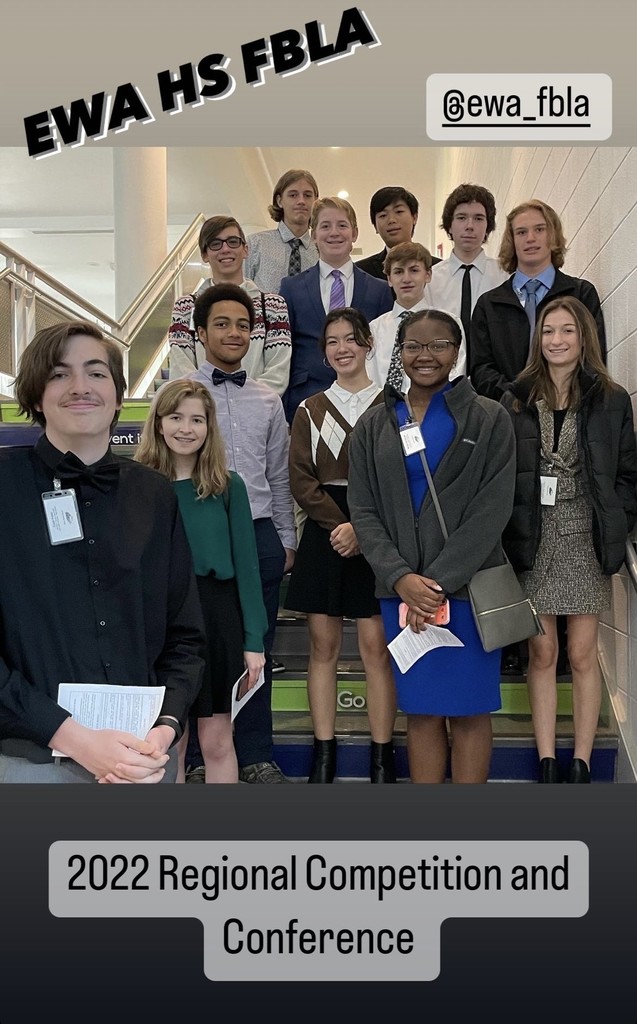 Lost and found items for this quarter will be donated 12/15 if not claimed. Please check the website and if you see something that belongs to you contact Mrs. Boykin in the K4 Lobby.
https://ewalostandfound.weebly.com/

THANK YOU so much to all the families that have donated items or monetary donations for our GIVING TREE! We ask that all donations are dropped off by Friday. You can also make a donation online at myschoolbucks.com. Thank you for helping make the holiday season BRIGHT for all of our EWA families! #EWA25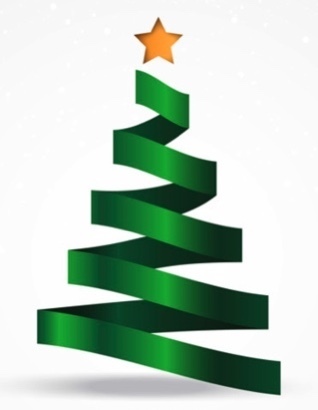 Come out and meet our new Executive Director, Mr. Pirrello, tomorrow at 4:15 or 5:15 in Eagle Hall in the Senior Academy. Cookies and milk will be served! We also have the Book Fair running tomorrow night from 3:30-6:30 in building 4. We hope to see you at both events! #EWA25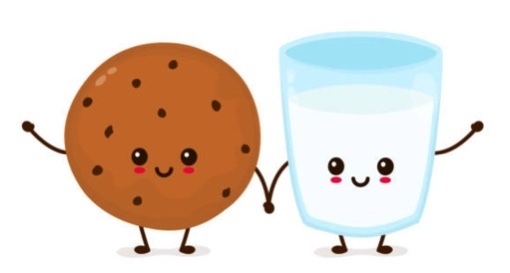 We had a great time Saturday in the Zebulon Christmas Parade. It was such a treat to see so many of our families along the route! #EWA25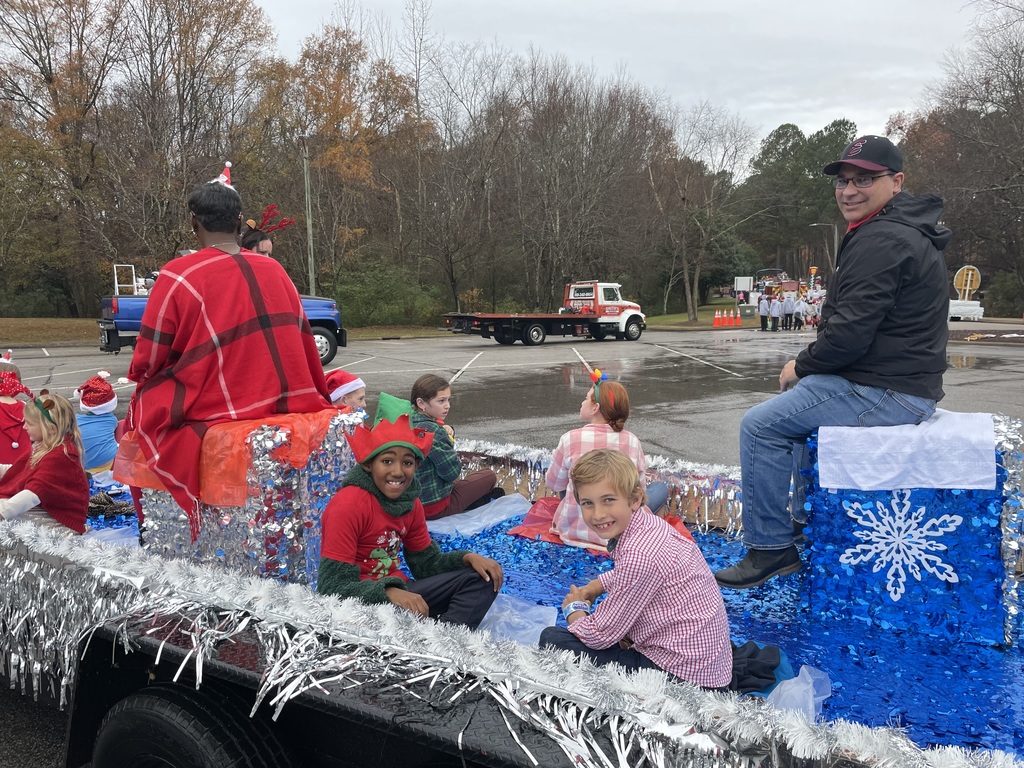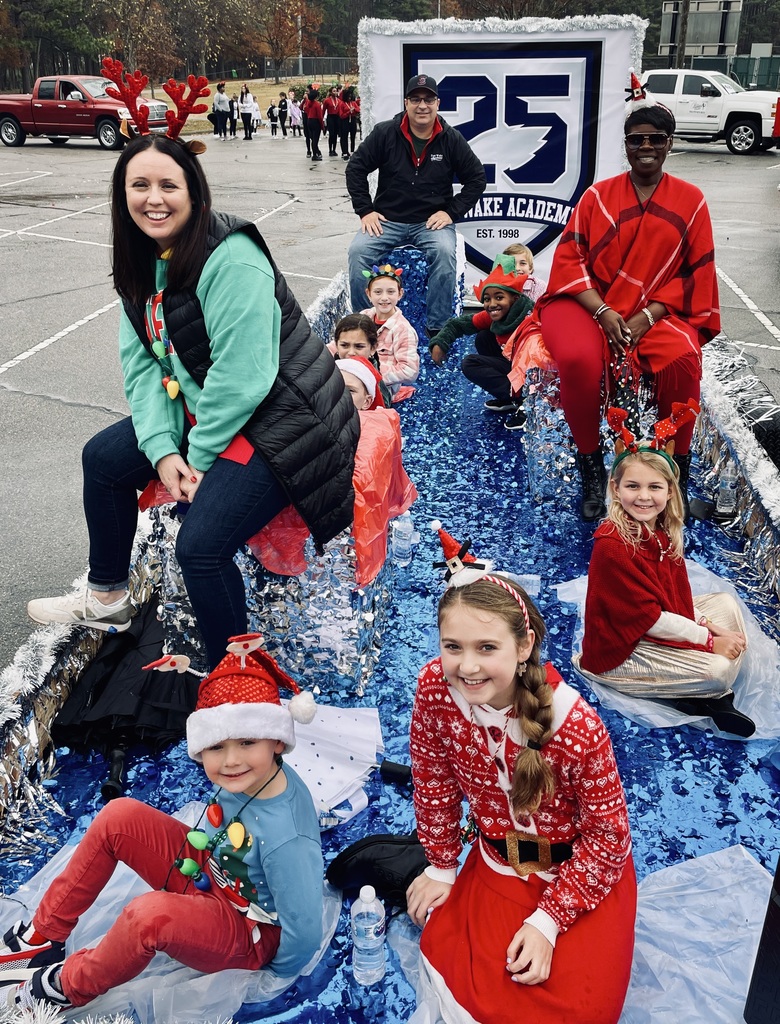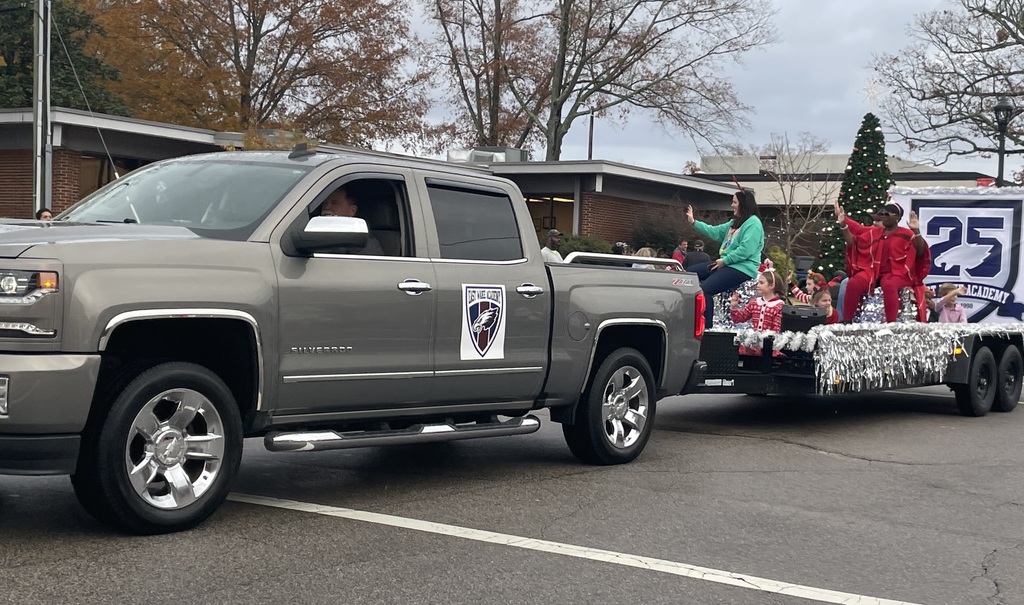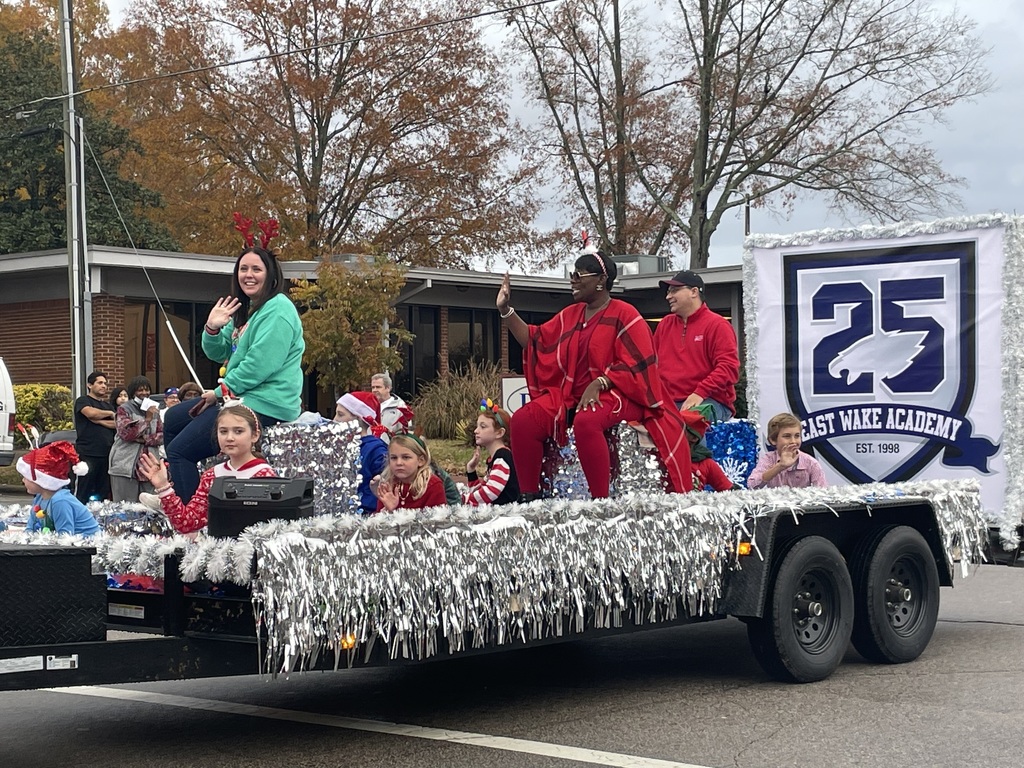 When you are out shopping this weekend- please remember our Giving Tree. There are several ways you can help out. You can look at our Sign-up Genius and choose any items you would like to purchase and donate. Link to Sign-up Genius:
https://www.signupgenius.com/go/508054DA5A922AA8-giving1
You can go online to ​My School Bucks​ and make a donation to help purchase items that do not get donated. You can donate small items for stockings or toiletries that we can use to fill stockings and give to families. Once you purchase items for the Giving Tree/Stockings, you can send them in with your student. We will have collection boxes in all 3 offices where the items can be dropped off. Once all the items are collected, we will deliver them to our families. We feel that EWA is truly a family and together we can make sure everyone in our family has a wonderful holiday. If you have any questions about our Giving Tree, please feel free to contact Candy Weatherspoon by email: ​
cweatherspoon@eastwakeacademy.org
​ or Erin Cracchiolo by email:
ecracchiolo@eastwakeacademy.org
​. Thank you in advance for being a part of our Giving Tree! *All donations are due by Dec. 9th